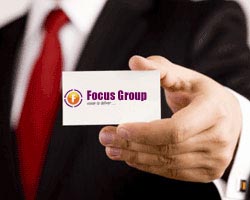 Our Journey
Our Company commenced its operations in 1999 by a team of professionals who had been having vast experience in various fields of industry and businesses.

The company employs highly skilled team of analysts backed by professional team leaders who indeed is supported by our strong Research Team with their Technical, Fundamental and Astrological Analysis.
The essence of our business is boutique culture understanding the customers and doing things right from the grassroot level as we strongly believe in the saying; "Difference between failure and success is doing a thing nearly right, and doing a thing exactly right."
Today we are into diversified businesses which is successfully managed only because of one things i.e. FOCUS, as our Focus is to deliver with vision.
Focus Group was one of the First to enter the MCX Commodity Exchange to trade in commodities and was pioneer in it and subsequently started the Equity and Currency Segments and now trades on NSE, BSE, NSE-FX, MCX and NCDEX.
Technologically we offer expert tips to trade on your mobile sets, on line trading platform and a courteous dealer to assist in trade.
Focus Group Companies are engaged in diversified activities of business. Focus Group companies engaged in the businesses of Equities, Commodities, Forex, IT Software, Healthcare Verticals and Educations.
Focus Comtrade Pvt. Ltd. - A member of Multi Commodities Exchange Ltd. (MCX) and National Commodities & Derivatives Exchange of India Ltd. (NCDEX), wherein we undertake trading on the platform of MCX and NCDEX.
Focus Shares & Securities Private Ltd. - A Stock Broking firm with memberships of NSE, NSE F&O, BSE, NSE Currency Derivatives, and MCX - SX (Forex). We also provide advisory services for in-house and third party investment products.
We have a dedicated team of Traders in Options and Derivatives having created a track record of reasonable returns on the proprietary desks as well as with the clients and Trading in Equities with Focus Shares & Securities Private Ltd. truly empowers you for your investment needs. We focus on customer-first-attitude, ethical and transparent business practices, respect for professionalism, research-based value investing and implementation of cutting-edge technology.
Today we are a well diversified financial services firm offering a range of financial products and services such as Equity & Commodity Broking, Online Trading, Research E-Magazine, Portfolio Management Services and Institutional Equities.
We ensure you have a superlative trading experience through:
1> A highly process driven, diligent approach.
2> Powerful Research & Analytics.
3> One of the "best in class" dealing rooms
Vision:

Our Vision is to deliver best value for money to investors through innovative products, Trading / Investment Strategies, State of the Art Technology and Personalized Service.
Mission:
Difference between failure and success is doing a thing nearly right, and doing a thing exactly right. At Focus we believe in doing things which are exactly right, as our Focus is to deliver with Vision.